news
10/04/2020
Another step forward with the new recording: solo parts of Roland are finished. That of Florian partially, but finally this poor guy has a lot more to do!
08/27/2020
Actually part of the band for a long time, but now officially introduced - Please welcome Mr. Fabian Arenz alla batteria!!! For further information, please click his profile-button.
06/21/2020
Drums for the next album are also finished - The new permanent drummer will be presented here soon!
04/26/2020
Unfortunately not much happened during last year, although we were not lazy: Again changed the rehearsal room, practice with our new drummer (which we will soon introduce here …), and the recording of the bass guitar is finally finished (as the photo with blissful Kirsten shows…)! Definitely more will happen soon... so at least we hope...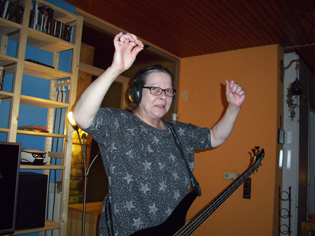 01/21/2018
Too late for a Merry Christmas, but not for a Happy New Year. We were not lazy: Rhythm guitars done !!! --- 11 songs --- 44 distortion tracks --- 8 times clean --- 1 acoustic --- Pretty obscure !??
09/09/2017
Long time ago since the last entry, but after some changes (new rehearsal room, new technical equipment), we are now back on track and started recording our new album. All clean and acoustic parts are finished, distorted rhythm guitars will follow soon!
11/06/2016
Our series of "Secret Gigs" is over now - five nice tests before we are released to the rest of mankind. Even if (not yet) everything has worked out: Thank you for the support to all who have been there!!!
09/30/2016
Although we now have almost finished our "secret gig"- leg (5 non-public gigs within Cologne), we unfortunately have to inform you that our first public appearance is indefinitely postponed because Björn is active for some months as actor in Berlin. Regardless of that the progress of our pre-production goes on: two more songs are completed ! Good news, right? Say: "Yes!!!"
07/31/2016
The pre-production of our new album has begun - Five songs are finished, the ideas for five to six more are present, but it still requires some efforts to complete them. Meanwhile we are also within the preparations for a gig in a well-known Cologne Metal Pub in the end of 2016 to present the songs from "Sign of the Brave" at least one time live. The exact date has to be announced - So: Look out!
04/17/2016
Finally the last song from the SIGN OF THE BRAVE - EP to listen on YouTube:
EIGHT-NINE
. Strange to say: There already exist audio / video files in the internet, but these ones have neither anything to do with SIGN OF THE BRAVE nor with FLYING SKULL at all!
03/13/2016
And another song to listen to on our YouTube channel:
RED DEATH
! Still actual, even though we temporarily work on songs for a new release...
02/07/2016
Now it's time to introduce our new bass player!!!
After much testing/casting we've chosen
Kirsten Saager
. Like Elmar she's involved in FLYING SKULL since 1985, f.e. light mixing in the 80s or management/promotion activities in the early 90s. And: observant visitors of our homepage will quickly realize that this sweet femininity was already active on four strings by playing the intro of the song LONESOME CHILD on our last recording.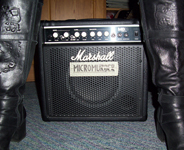 Kirsten in front of her home-equipment
01/17/2016
LONESOME CHILD
, another song from our still actual recording SIGN OF THE BRAVE, is now to listen on our YouTube channel.
12/13/2015
We have made the decision for a new fixed bass player! More information soon ...
10/25/2015
A long time ago since our last message, but because of a sad family event we had stopped all activities. But on we go! Currently we do several rehearsals to find a substitute for Elmar and finally a fixed drummer. In the meantime we proudly present our first band-shirt! If you're interested, please press the
SHOP
-button!
04/19/2015
For those who might be wondering why nothing happened: Well, in the midst of our preparations to return to the live sector, our bassist and friend Elmar (member of the band since 1985!) left us. Unfortunately he hasn't the will to strike live again. Nevertheless: Only a short break, but we go on !!!
01/19/2015
HAPPY NEW YEAR TO ALL OF YOU !!! And: FLYING SKULL is represented with the song EVIL COLD on the brand new
Podast Vol.31 "Metal never die!"
of the german ETERNITY MAGAZIN!
12/13/2014
The song EVIL COLD from the recording "Sign of the Brave" is now to listen at our YouTube-channel:
EVIL COLD
11/09/2014
The recording of the "Rock Night"- show by Thorsten Tigges on RETURN OF ROCK RADIO with presentation of the band can be heard at the following link:
click here
10/10/2014
08/24/2014
Nice review in "
HardHarderHeavy
" (german language), which summarizes our intentions in a great way - Many thanks to Matthias H.!
07/13/2014
The song RACE TO HELL from the actual recording "Sign of the Brave" is now to listen at the YouTube channel:
RACE TO HELL
.
06/15/2014
"Hi there! FLYING SKULL would like to thank you this way for the support so far. Dozens of emails and orders have reached us in the last two months and show us that we're not forgotten after all these years. THANK YOU VERY MUCH!!!"

Björn, Elmar, Florian, Roland + Wollo
04/22/2014
The album trailer is online!
04/06/2014
FLYING SKULL just released the album "Sign of the Brave" today!!!
The album is currently only "physically" available on CD-R (PRO CD-R - This means production by a professional manufacturer - No homemade duplication!)
For order information please press the
SHOP
-button!
Tracklist
1. Race to Hell (Re-recording of the song from the "German Metal Tracks No.5"- LP sampler from 19-something-what?, this time even with audible guitars and a drum sound that is not reminiscent of Medicine Balls . Short, fast, great ...)
2 . Red Death
(Re-recording from the "Revelation" album, but with a new intro, a modified center section and new vocal lines)
3. Eight-Nine
(A song, which was recorded in 1986 with the title "Nagasaki" for our first demo "The First Flight". However, this has never been published...)
4. Lonesome Child
(also re-recorded, this time from the "Darkness" album with a completely different intro. Suitably to the lyrics with a lot more "street feeling".)
5. Evil Cold
(Although one of the oldest songs of FLYING SKULL, it was never recorded anywhere. Definitely Skullcrusher character...)
03/23/2014
On April, 6th the new FLYING SKULL album "Sign of the Brave" will be released.
Guitarist Roland Saager commented:
"Hi there! After many months of trial and error, of recording, deleting, re-recording again, mixing, discarding and mastering it becomes true: The new album is finally done! As in the previous millennium, of course, this production was also done by our own initiative, and the result makes me really happy. Every time I hear it, and that happens damn often, I've already in the first few bars of "Race to Hell" a broad grin on my face, and that grows even wider to the last note of "Evil Cold" ... . This time we realized it largely to keep the sound authentic, that means that it comes out of the speakers as it came from our amps. For all the people who do NOT know us and who have a faible into traditional metal of the 80s this recording is a MUST! What incidentally also applies to those who know us from "Darkness" or "Revelation" already. Not to mention that this is finally a recording with Björn on vocals".
For more information about the new album, please press the
DISCOGRAPHY
-button.
About the cover Roland commented:
"Well, it was again illustrated by our sixth band-member Wolfgang in a very great way. As a connection to the last millennium came the scenery from the "Revelation" cover for use. Over that: Apart from the new band logo there is also a small, pretty dressed mascot to discover that will probably play a role in future releases."