news
05/02/2021
02/28/2021
The recordings of the lead-guitars are completely finished. What is missing are the vocals, and so Björn has meanwhile occupied his command post …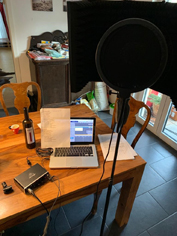 12/20/2020
10/04/2020
Another step forward with the new recording: solo parts of Roland are finished. That of Florian partially, but finally this poor guy has a lot more to do!
08/27/2020
Actually part of the band for a long time, but now officially introduced - Please welcome Mr. Fabian Arenz alla batteria!!! For further information, please click his profile-button.
06/21/2020
Drums for the next album are also finished - The new permanent drummer will be presented here soon!
04/26/2020
Unfortunately not much happened during last year, although we were not lazy: Again changed the rehearsal room, practice with our new drummer (which we will soon introduce here …), and the recording of the bass guitar is finally finished (as the photo with blissful Kirsten shows…)! Definitely more will happen soon... so at least we hope...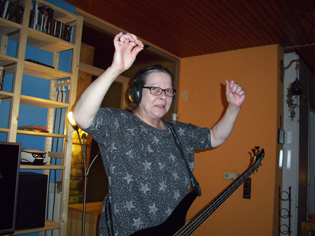 01/21/2018
Too late for a Merry Christmas, but not for a Happy New Year. We were not lazy: Rhythm guitars done !!! --- 11 songs --- 44 distortion tracks --- 8 times clean --- 1 acoustic --- Pretty obscure !??
09/09/2017
Long time ago since the last entry, but after some changes (new rehearsal room, new technical equipment), we are now back on track and started recording our new album. All clean and acoustic parts are finished, distorted rhythm guitars will follow soon!
11/06/2016
Our series of "Secret Gigs" is over now - five nice tests before we are released to the rest of mankind. Even if (not yet) everything has worked out: Thank you for the support to all who have been there!!!
09/30/2016
Although we now have almost finished our "secret gig"- leg (5 non-public gigs within Cologne), we unfortunately have to inform you that our first public appearance is indefinitely postponed because Björn is active for some months as actor in Berlin. Regardless of that the progress of our pre-production goes on: two more songs are completed ! Good news, right? Say: "Yes!!!"
07/31/2016
04/17/2016
03/13/2016
02/07/2016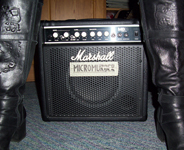 Kirsten in front of her home-equipment
01/17/2016
12/13/2015
We have made the decision for a new fixed bass player! More information soon ...
10/25/2015
04/19/2015
For those who might be wondering why nothing happened: Well, in the midst of our preparations to return to the live sector, our bassist and friend Elmar (member of the band since 1985!) left us. Unfortunately he hasn't the will to strike live again. Nevertheless: Only a short break, but we go on !!!
01/19/2015
12/13/2014
11/09/2014
10/10/2014
08/24/2014
07/13/2014
06/15/2014
04/22/2014
The album trailer is online!
04/06/2014
FLYING SKULL just released the album "Sign of the Brave" today!!!
03/23/2014
On April, 6th the new FLYING SKULL album "Sign of the Brave" will be released.