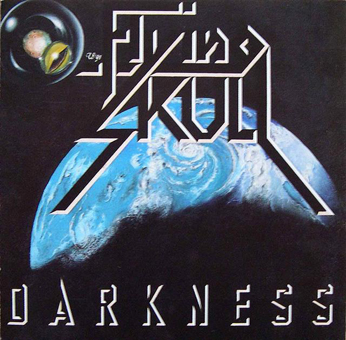 Darkness, 1991


TRACKS

Tommyknockers

Nightwalk

Lonesome Child

Darkness

Hawkeye

Child of Ica

Annie

The Unknown Day

line up

Roland Saager -

Guitars

Elmar Birlo -

Bass

Ralph Blankart -

Drums

Stefan Uschwa -

Lead Guitars

Achim Nohl -

Vocals

guest starring

Andreas, Babsi, Claudia, Eva-Marie, Gunbritt, Martina, Michael, Oliver & Uli

Final Chorus "Lonesome Child", "The Unknown Day"

All songs written by FLYING SKULL

Darkness was recorded at TOP-TON-Studios, Cologne

Produced by Michael Herweg & Flying Skull

Engineered and mixed by Michael Herweg

Album illustration by Wolfgang Saager

additional information

"Darkness" is completely sold out, and the band does not plan to reprint it. Interested ones may listen to the songs on YouTube (where the band has never set them...). Finally to be said: This album is past, and FLYING SKULL will never play these songs in this form again!