news
11/08/2023
11/01/2023
Monday, November 6th, 2023, 9 p.m.!!!
FLYING SKULL once again with songs of the new album OBSCURITA in the program "Rock Alive" in the web radio of
RADIO PARANOID
.
Switch on!!!
10/08/2023
From now on, our OBSCURITA album will no longer be sold via this homepage, instead via getyourmusic (Please click the CDS/SHIRTS button on the left. You will find the link there ...). Maybe not well known when it comes to Heavy Metal, but we like the concept of this platform and its extremely fair conditions.
10/01/2023
Today is finally the day our new album is released to mankind. OBSCURITA is available physically on CD as well as digital download. For more information, please click
here
. For snippets from each song, please watch our trailer on
Youtube
.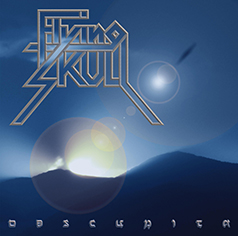 Comment from Roland: A very satisfactory result even without the NASA recording technology that is mandatory today. We can perform all 10 songs almost 1:1 live and they will sound exactly the same. Some may ask: Why all 5 songs from "Sign of the Brave" again? Firstly, all songs with Fabian, Kirsten and Florian's solo work should be on the album. In addition, all are rearranged a little. FACELESS and GRAVE OF THE BRAVE are songs from the mid-80s and have never been recorded. Older companions may still remember both songs under a different title!? THE STAR also comes from that time. If anyone here is wondering why the song has the same middle part as "Keep on Running" from the REVELATION album? This middle section is now exactly where it originally belonged. BATTALION OF STEEL and WE ARE METAL are completely new songs, although some people might already know the latter from our CD single released in February!? Anyway, we hope you like OBSCURITA ... If not: Kiss our asses!!!
09/03/2023
After the release of the single WE ARE METAL in early February, FLYING SKULL can finally announce the new studio album OBSCURITA, which will be released on October 1st, including 10 tracks!
08/20/2023
We don't know exactly when the new album will be released, but we are in constant preparation. Meanwhile there is maybe an interest in a
short snippet
from our concert in Valhalla at the beginning of July?
07/05/2023
A great evening on July 1st, 2023 is over! Our biggest thanks to the entire
VALHALLA
team for the great support and a very good organization, as well as to the musicians of the bands
AMONG TRAITORS
and
LOST SANITY
. And of course many thanks to the audience... Lots of new faces, but fortunately also some we haven't seen for a very long time!
04/16/2023
04/02/2023
After exactly 25 years and 197 days FLYING SKULL will return
LIVE
!!!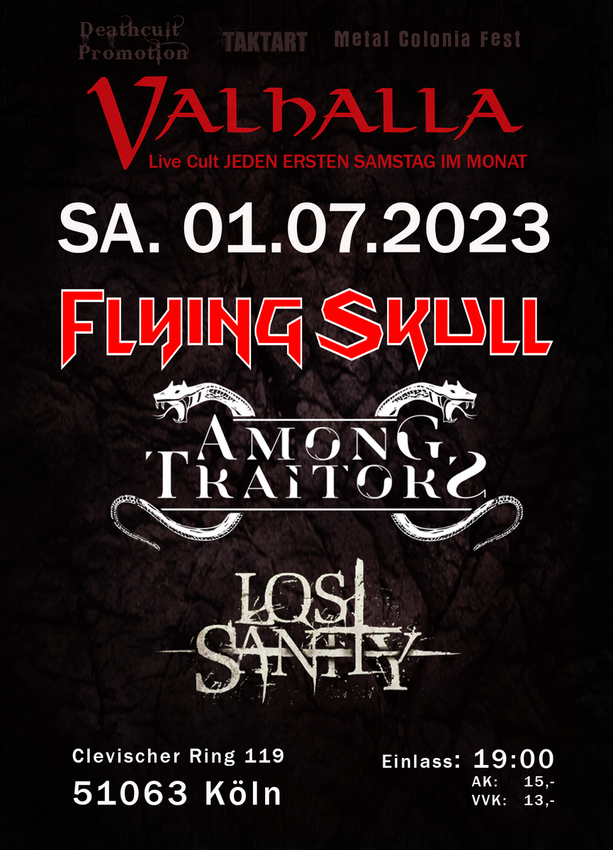 02/16/2023
Monday, February 20th, 2023, 9 p.m.!!!
FLYING SKULL with both songs of the new single in the program "Rock Alive" in the web radio of
RADIO PARANOID
.
Switch on!!!
02/01/2023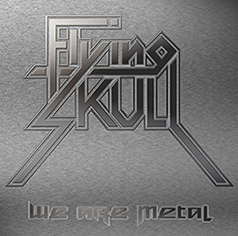 Here it is finally – Our Pre-Single WE ARE METAL from the album OBSCURITA, which should be released in the middle of 2023.
Available as digital download on
bandcamp.com
or it can be ordered physically here on the homepage (
CDS/SHIRTS-button
). WE ARE METAL can also be heard on
YouTube
.
Two songs: WE ARE METAL is of course about what we are! And I FEEL GOOD is dedicated to a certain group of people who where every metalhead's best friend in the late 70's/early 80's … Some still exist … FUCK THEM ALL!!!
01/08/2023
Black clouds in the sky? Maybe, but a lonely light breaks through the darkness and the impossible actually becomes true: On February 1st, 2023, FLYING SKULL will release the CD-Single (!) WE ARE METAL!!! More information here in february...
09/18/2022
Also the mastering is finished and thus the complete new recording completed! Be curious what happens next - we are!!!!
05/22/2022
The mixing itself is also done, so we can now turn to the mastering steps. But as always with us: changes in between can always be possible!?
04/17/2022
With the support of some helpful voices (biggest thanx to Rolf, Svenja + Wollo!!!) we finally finished the recording of the new album by singing the backing vocals!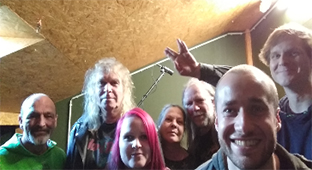 11/01/2021
Lead vocals are almost completely recorded except for 2 songs. In the meantime we have even started the mixing of the material which is already completely available!
09/05/2021
Unfortunately we haven't made much progress since the last entry. In terms of recording, Björn is currently unable to sing because he works as an actor. And as far as the live sector is concerned: Will it ever be possible to play concerts in their original form again? In any case, so called gigs in front of cars or beach chairs are definitely not our thing!
07/12/2021
More than half of the lead vocals have now been recorded. Along with a few corrections to the drums and sing in the backing vocals, the recording is nearing completion!
05/02/2021
We recently found a wonderful review of our REVELATION album (released nearly 30 years ago!) In
Encyclopaedia Metallum
. Whoever the author may be: Thank you very much for that !
02/28/2021
The recordings of the lead-guitars are completely finished. What is missing are the vocals, and so Björn has meanwhile occupied his command post …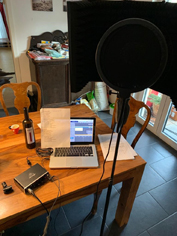 12/20/2020
For the nostalgics among you: FLYING SKULL has put all setlists from the period 1982-1997 on
setlist.fm
! (... if available. Most of them are ...)
10/04/2020
Another step forward with the new recording: solo parts of Roland are finished. That of Florian partially, but finally this poor guy has a lot more to do!
08/27/2020
Actually part of the band for a long time, but now officially introduced - Please welcome Mr. Fabian Arenz alla batteria!!! For further information, please click his profile-button.
06/21/2020
Drums for the next album are also finished - The new permanent drummer will be presented here soon!
04/26/2020
Unfortunately not much happened during last year, although we were not lazy: Again changed the rehearsal room, practice with our new drummer (which we will soon introduce here …), and the recording of the bass guitar is finally finished (as the photo with blissful Kirsten shows…)! Definitely more will happen soon... so at least we hope...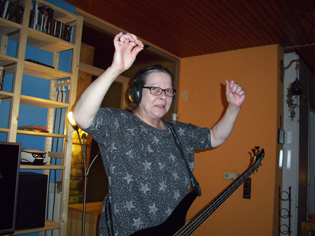 01/21/2018
Too late for a Merry Christmas, but not for a Happy New Year. We were not lazy: Rhythm guitars done !!! --- 11 songs --- 44 distortion tracks --- 8 times clean --- 1 acoustic --- Pretty obscure !??
09/09/2017
Long time ago since the last entry, but after some changes (new rehearsal room, new technical equipment), we are now back on track and started recording our new album. All clean and acoustic parts are finished, distorted rhythm guitars will follow soon!
11/06/2016
Our series of "Secret Gigs" is over now - five nice tests before we are released to the rest of mankind. Even if (not yet) everything has worked out: Thank you for the support to all who have been there!!!
09/30/2016
Although we now have almost finished our "secret gig"- leg (5 non-public gigs within Cologne), we unfortunately have to inform you that our first public appearance is indefinitely postponed because Björn is active for some months as actor in Berlin. Regardless of that the progress of our pre-production goes on: two more songs are completed ! Good news, right? Say: "Yes!!!"
07/31/2016
The pre-production of our new album has begun - Five songs are finished, the ideas for five to six more are present, but it still requires some efforts to complete them. Meanwhile we are also within the preparations for a gig in a well-known Cologne Metal Pub in the end of 2016 to present the songs from "Sign of the Brave" at least one time live. The exact date has to be announced - So: Look out!
04/17/2016
Finally the last song from the SIGN OF THE BRAVE - EP to listen on YouTube:
EIGHT-NINE
. Strange to say: There already exist audio / video files in the internet, but these ones have neither anything to do with SIGN OF THE BRAVE nor with FLYING SKULL at all!
03/13/2016
And another song to listen to on our YouTube channel:
RED DEATH
! Still actual, even though we temporarily work on songs for a new release...
02/07/2016
Now it's time to introduce our new bass player!!!
After much testing/casting we've chosen
Kirsten Saager
. Like Elmar she's involved in FLYING SKULL since 1985, f.e. light mixing in the 80s or management/promotion activities in the early 90s. And: observant visitors of our homepage will quickly realize that this sweet femininity was already active on four strings by playing the intro of the song LONESOME CHILD on our last recording.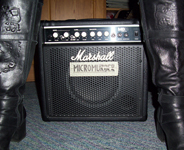 Kirsten in front of her home-equipment
01/17/2016
LONESOME CHILD
, another song from our still actual recording SIGN OF THE BRAVE, is now to listen on our YouTube channel.
12/13/2015
We have made the decision for a new fixed bass player! More information soon ...
10/25/2015
A long time ago since our last message, but because of a sad family event we had stopped all activities. But on we go! Currently we do several rehearsals to find a substitute for Elmar and finally a fixed drummer. In the meantime we proudly present our first band-shirt! If you're interested, please press the
SHOP
-button!
04/19/2015
For those who might be wondering why nothing happened: Well, in the midst of our preparations to return to the live sector, our bassist and friend Elmar (member of the band since 1985!) left us. Unfortunately he hasn't the will to strike live again. Nevertheless: Only a short break, but we go on !!!